(This page uses CSS style sheets)
sydney
Deanna Sorensen & Jez Ford
Hi everyone!

G'day g'day! How are you all doing? Send us an email.

Latest news... Dee becomes wildlife carer. We currently have a sick kookaburra, a big adult female that was brought in to a vet and allocated to Dee. They're beautiful birds, really cute. You have to forcefeed it strips of meat and hold its beak up until it swallows them... It's been getting more energy every day and now bounces around the floor as soon as you let it go.

I (Jez) have just had a trip to Hawaii with the boys from work; here's us on Waikiki Beach as snapped by the guys back in the office from a pre-arranged webcam visit.
You do know Dee's book is out! Not got one? WHY NOT? It's quite brilliant - self-published to the highest professional standards, and all major credit cards (and some of the minor ones) accepted, delivered anywhere by those awfully nice but not 100% reliable Australia Post folk. read all about it (and order it) here.

Jez too has been creative this year, working with one Bruce 'BJ' Jenner on a series of songs given life thanks to a laptop-based recording system. Under the name B'Jezus, a Yuletide CD entitled 'The Harbour Sessions' is out there circulating as a white label. There's more on this on the spectacular B'jezus website or you can download the songs at www.mp3.com.au/bjezus. The second album is on the way!
All for now.
Jez & Dee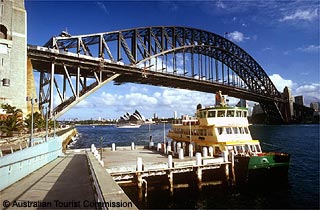 New year, new house - lots of spiders...
Old news - 'Winter? No one told us they had winter here... Plus marathons and stuff...'

Happy New Year - wine, cheer and police cordons
Dee's links...
Women in General: Seven million steps to success - Dee's latest online article

In Touch magazine: Another online article

EndurePlus: online article by Dee (includes pics)

MISSION ACCOMPLISHED! Walking from Perth to Sydney
I DID IT!!!: My thoughts at the finish and a great AP pic!

MISSION POSSIBLE: Dee's home page

Letter from Dee>: August 7th 1999
Letter from Dee>: December 19th 1998
Jez's links...
Jez's home page
Led Zeppelin: A little tribute to the boys...

Yes oh yes, there is a Flem site...
Radio Wap: It goes back awhiles, but, er... well, I'll let Spot the dog explain...